Health Support

Support Your Body and Your Community by Joining a CSA
CSA (community supported agriculture) is part of the current "back to basics" trend. Instead of buying produce, meat, eggs, and dairy from a store (which can get supplies from rather anonymous and sometimes untrustworthy sources), buying into a CSA allows today's consumer to know where their food comes from.  It also supports local farms and ranches, cuts down on the amount of miles food has to travel (hence saving gas and lessening pollution), and allows consumers to eat fresh, in-season foods.
Having a CSA share is a bit like having a stock share – you are invested in a farm instead of a corporation and your dividends are fruits & veggies.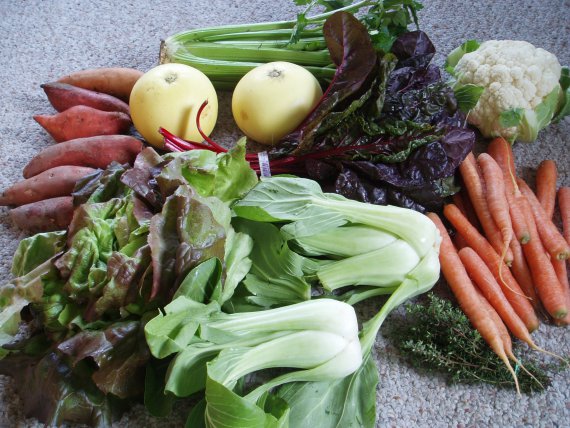 Because so many small farms and ranches offer CSA programs there are a variety of options to choose from: weekly deliveries, monthly deliveries, seasonal, fruit or vegetables only, large or small boxes to accommodate family sizes, home delivery, pick up at central location or at the farm, COD or payment options.
Most produce-based CSA boxes will contain a mix of in-season fruits and vegetables, most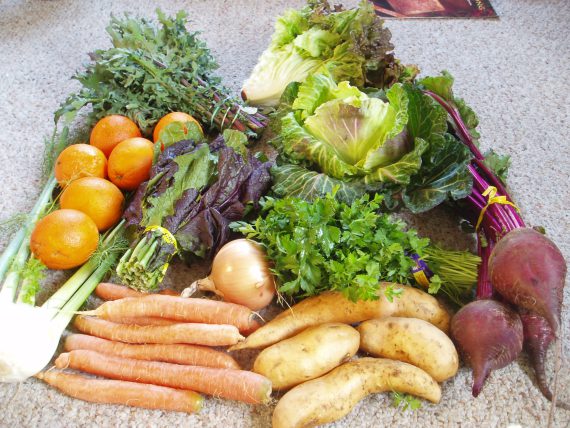 of which are grown on the farm (some farmers purchase or trade with other farmers for more variety).  Imagine opening your CSA box to find a pound of fresh potatoes, a small bunch of leeks, a bunch of huge fragrant carrots, a couple pears, a bag of salad greens, a handful of lemons, and a baggie of crisp green parsley.  Bigger CSA farms might even have the option for extra fruit, rice, beans, eggs, honey, meat, and/or dairy products.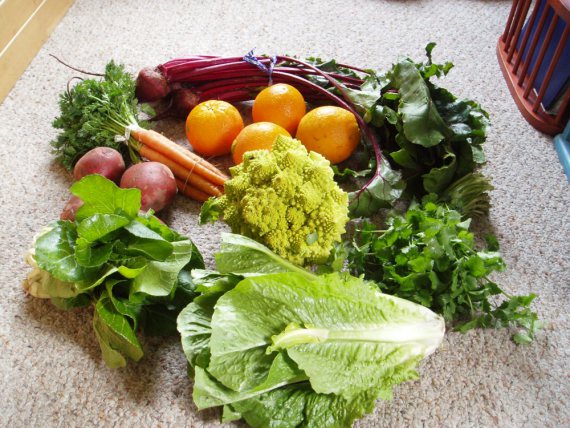 Your CSA box contents will be fresher than what you can buy in a store, and usually cheaper than what you get at a farmer's market.  Fully ripe fruit cannot be transported far, so big commercial farms tend to pick their fruits before the peak of ripeness.  Having fresh fruit that ripened on the plant is certainly noticeable when it comes to flavor, but you might also notice a better color, texture, and scent. Produce that arrives on your plate a mere few days after harvest is higher in nutrients than produce that had to be shipped long          distance, and it tends to spoil at a much slower rate!
To find a CSA near you, visit this website:  http://www.localharvest.org/csa/
Make sure to read the main page about community supported agriculture before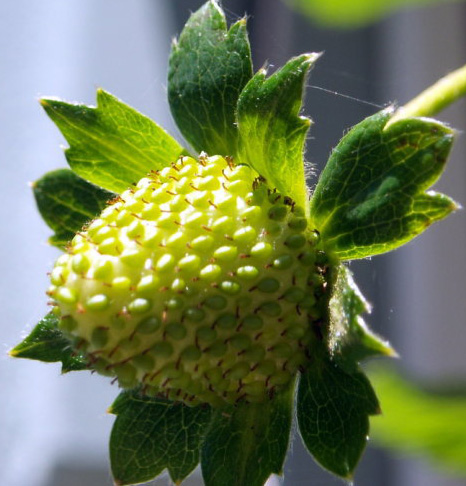 searching and signing up.  Always contact the farm before sending any money, just in case their online information hasn't been recently updated.  The best CSA farms allow or even encourage visitors, and by visiting the farm you can see their growing practices for yourself.  Many small farms cannot afford to be certified organic, but when asked would be happy to tell you about their natural growing methods.
Remember to always wash your produce thoroughly before eating.  Listen to our Radiation Teleconference for a vegetable wash recipe.
Here's to healthier eating for healthier minds and bodies!
  photos by Kirsten Dearing